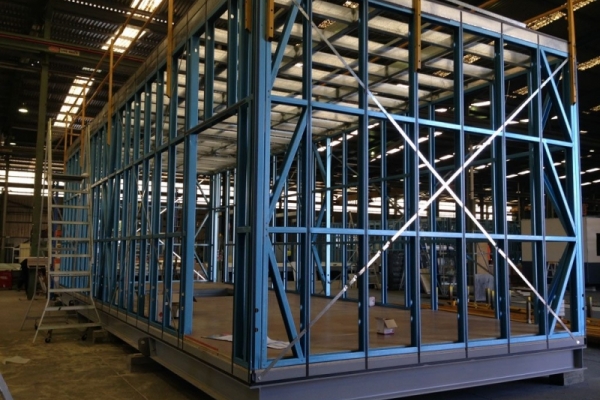 The basis of the houses or apartments are steel modules with a very strong frame and corrugated steel panels. The modules are designed to the required strength (e.g. first floor or 15th floor) and consist of corten steel.
---
Sea containers during transport are stacked up to 10 levels below deck and 10 levels above deck and contain each up to 20 tons. On top of that the ocean sometimes may be very rough and due to high waves a vessel can move up and down 5 to 10 metres. The lower containers can withstand the forces of all these movements during a long period of time.
---
The steel structure design office determines the strength and thickness of each module and the local engineering office for steel constructions will inspect each design and its steel structure strength.
---
The preservation method for the finished module consist of two primers and one finishing coating. A lifespan of 50 years or more is achieved in combination with the waterproof façade cladding and the roof covering.
---
First the inner walls structures, door and window frames are applied by means of aluminium profiles. The next step is to install the cabling from the electrical cabinet to all light-points, switches and plugs, internet, smoke-detection and alarm-system. The latter is connected to the building's central alarmsystem.
---
The plumbing is connected between the bathroom (shower, sink, toilet) and the kitchen, boiler, dishwasher, washing machine, heating elements, and connected to the central tubes in the shaft. Air ventilation and/or air conditioning ducts are connected between each apartment and each floor.
---
In our building system the thermal and acoustic insulation is applied in two stages, first on the inside of the module between the steel structure and the wall panels, the ceiling and the floor. A second insulation is later applied at the building site.
---
The wall panels are installed, the light switches, plugs and lighting points are finished. Then the ceiling is installed and finally the floor is laid of a great choice of tiles, carpet or wooden elements such as parquet or stylish planks.
---
The bathroom is optionally equipped with bath and/or shower or both, bathroom furniture, sanitary, mirror, toilet and bidet. The floor and the walls are tiled from a large selection of floor- and wall tiles.
---
For each apartment or house there is a choice for a basic kitchen or modern stylish kitchen with the corresponding kitchen appliances. Obviously equipped with brands that are common in Europe.
---
Once the modules are brought into the final position on the building-site, a second insulation is applied between the steel structure and the façade cladding. On the roof the required insulation is applied before the roof covering completes the whole structure.